In the postmodern world of fashion, there is a well-worn saying that everything old is new again, as brands recycle past trends for the latest generation.
At fashion brand Assembly Label, this concept is quite literally true.
It's selling the same garments twice.
The Australian fashion chain's chief executive Lee Thompson describes its program Reworn as a "a product take-back initiative".
"The purpose of it is to extend the life cycle of Assembly Label clothes," he says.
The scheme is launching in the chain's 16 stores nationally from this month.
Reworn encourages people to bring back clothes that they've bought off the label previously and aren't wearing anymore. The incentive for them to do this is 10 per cent off their next purchase instore. Assembly Label then re-sells the old clothes and keeps the cash.
It has already trialled this scheme at one of its Melbourne stores, where it got back 750 items from customers and re-sold them in less than a month.
Downstairs at its Fitzroy store it continued to sell men's and women's clothing in its signature muted colours, with prices ranging from around $50 upwards. Upstairs, it was re-selling items that had already been worn by customers, for around half their usual price.
On a smaller scale in regional South Australia, another boutique is getting into this trend too.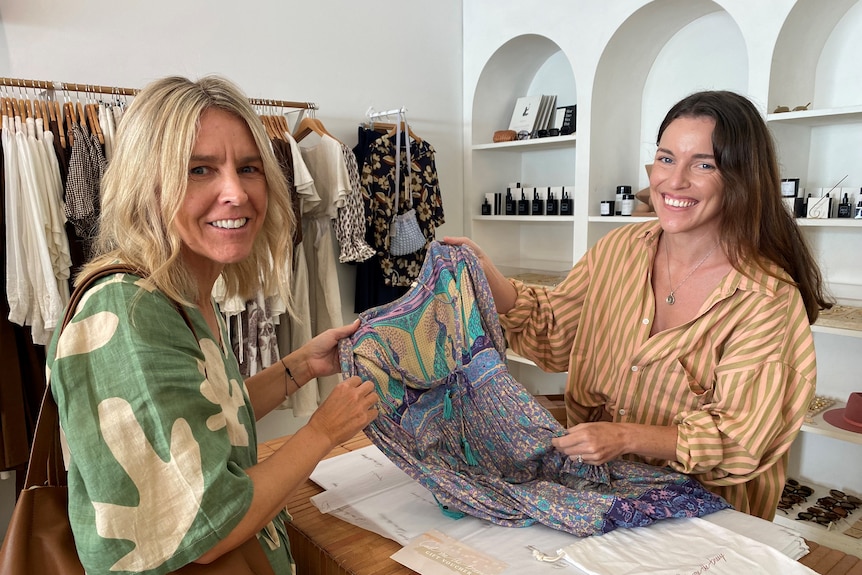 Tara Rowe is also getting her customers to bring back clothes they've bought off her anytime since her shop, Call Me The Breeze, opened in 2014.
Instead of offering a discount, the Port Lincoln boutique is giving people who bring back their old fashion an actual voucher for the store. They get back 25 per cent of their old item's original purchase price.
"So if someone bought from us a $200 dress within the last eight years since we've been open, and they have proof of purchase, they can return it for a $50 gift voucher," Rowe says.
This trend is starting as second-hand fashion booms
No longer associated with mothballs and op shops, second-hand clothing has grown into a major global industry worth $175 billion annually, according to analytics company Business of Fashion.
There's less data on how much it's worth specifically here in Australia, but anecdotally, second-hand clothing is becoming a significant part of the fashion industry, as shoppers seek out bargains and sustainability.
Much of the growth here so far has come from second-hand stores.
There's now several chains across Australia that let people wander in off the street with their unwanted clothes and sell them instore on a consignment model.
Goodbyes is one of those chains. It now has five shops nationally.