Rihanna (32) and rapper A$AP Rocky (32) have been friends for years, but the spark would have been missed by now. Rumors about a possible relationship have been circulating since the beginning of this year, but a few sources appear to confirm this effectively.
Rihanna and A$AP Rocky were reportedly spotted in New York this weekend at a dinner party with friends. It immediately rekindled rumors of a possible relationship. It first surfaced in January when it became known that Rihanna was no longer together with billionaire Hassan Jameel after a relationship of three years.
In July, she engaged the rapper for a promotion campaign for her cosmetics label Fenty Skin and they did some interviews together. That they would now form a couple was confirmed by a source to the American magazine People.
The two have been friends for years and he was the opening act on her Diamonds World Tour in 2013 and also contributed to her song Cockiness. They also sat together in the front row of the Louis Vuitton fashion show in 2018 and went to the Fashion Awards in London together in early 2020.
A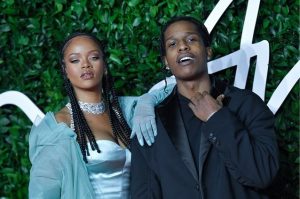 $AP Rocky previously collaborated with the likes of Kendall Jenner in 2017 and Brazilian model Daiane Sodré last year.